Sarah Pekkanen is a brand new chick lit author… how'd I hear about her?  From Jennifer Weiner (well-known chick lit author) on Twitter.  Jennifer recommended that her fans go out and get Sarah's debut novel, "The Opposite of Me", when it came out a few weeks ago.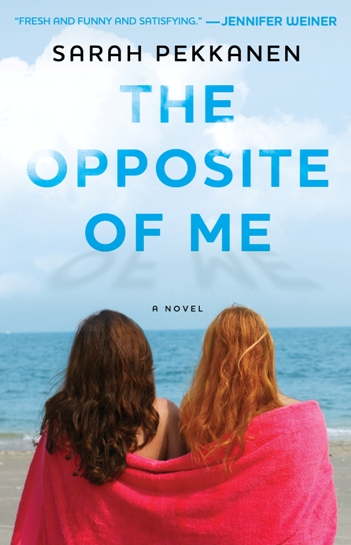 For a first-time author, I thought this was a good read.  The story starts with workaholic and overachiever Lindsay Rose, who works at a big NYC ad agency.  She is on the cusp of a HUGE deal and becoming the youngest ever VP in the history of the company.  All of a sudden, in a matter of minutes, her life is turned around when 1) the customer signs with them, but only if he can work exclusively with Lindsay's coworker, 2) she loses out on the VP role to that same coworker, and 3) she loses her job (I won't tell you how that one happens!).
Lindsay decides it would be best to move back home with her parents in DC to start over and look for jobs outside of NYC.  When she gets there, she is immediately back into competition with her gorgeous sister Alex, who works as an entertainment reporter.  Lindsay starts to garner resentment toward her sister when her friend, Bradley, who used to have a crush on Lindsay, starts showing interest in Alex instead of her, even though Alex is engaged.  Lindsay decides to get a makeover (basically a major shopping spree for clothes and makeup) to get her mind off of everything and turns herself into a more confident, glamorous version of herself – but only when she's not around her family.  One day, Lindsay runs into (almost literally) a woman who runs a dating service and she and Lindsay become fast friends and confidants.  Then, Alex starts acting strange and some things occur that turn Lindsay and her family upside down.
Reading over it, I realize that my little summary above sounds a little confusing.  It totally make sense when you're reading the book.  I know I'm leaving stuff out because you guys know that I don't like giving away critical parts to the story that make it interesting.
"The Opposite of Me" deals with some interesting topics, like how people grow up in a certain role, even if they don't know how they got there, and feel like they have to stay within that role the rest of their lives.  The story was a typical entertaining, easy chick lit book that I would definitely recommend.  Would I read her future books (if there are any)?  Yes.  Thanks for the recommendation, Jennifer Weiner!